Below are a few links to rescue related sites, some pit bull specific, some not.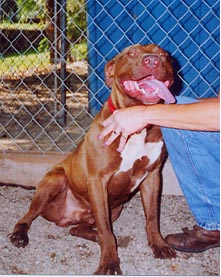 Skip sits smiling for the camera.

Pit Bull Rescue Central A virtual shelter for pit bulls, staffies and mixes. A great place to locate a pit in need!
PetFinder Looking for a dog, cat, bird, reptile, horse, or other critter? Petfind provides thousands of homeless animals with the exposure they need to increase their adoptibility.
Wisconsin Dog Rescue WI Dog Rescue is a group of MANY different breed rescues and several shelters in the state of Wisconsin helping each other with the dogs. Looking for a dog, but no breed in mind? Check out the breeds represented by the group, maybe you'll get an idea. These rescues are all SCREENED before being allowed to join to ensure that they are legitimate groups.
Chicagoland Bully Breed Rescue Another Pit Bull rescue based in Chicago, IL. A very good group that we often work side by side with in order to place dogs. We highly recommend them!